So something I probably haven't mentioned before is how bonkers Miss C is, she's the crazy one in the family and nothing makes her happier than being silly and throwing herself all over the place. I'm sure she has a screw loose!  Recently she mastered the art of cartwheels (something I never managed!) and compulsively cartwheels everywhere, garden, school, living room etc etc.  Anyway, on Saturday she was cartwheeling around the living room and decided to stand on the settee and attempt to cartwheel off it. ( You know where this is going, don't you….) Needless to say it wasn't the best decision she's ever made!  She landed in a heap on the carpet and started screaming.  I checked her over and tried to recall my first aid knowledge (something about checking symmetry and looking for swellings?) to check her arm which she complained about and all seemed ok.  She did cry a bit longer than normal but half an hour later was jumping around again so we thought she had gotten away with it.  Later that night she complained about it again and first thing on Sunday morning she complained about it.  I don't know why but my instinct said it needed checking out so 8am Sunday morning we arrived at A&E to get it looked at.  One of my best friends was the Triage Nurse on duty that morning and I'm not sure if it was her doing or because she was kid but we got seen quite quickly.  One x-ray later the nurse decided it was greenstick fracture  and she needed a cast.  They put a temporary cast on her which made her very upset as she realised what she had done.  It also meant no swimming, trampolining, kung fu, school sports (including sports day!) so she was gutted. 
Yesterday I had to take her to the Fracture Clinic to get it checked out by a consultant.  4 hours later….. the consultant decided it wasn't a fracture and so she didn't need a cast, unfortunately Miss C had her heart set on a purple cast and had 'pinky' swore her friends she would get one.  To say she was inconsolable would be an understatement!  She sobbed and sobbed all the way back to school as the Dr has given her an ugly blue sling to rest her arm in for the next 2 weeks.  This sling was an adults version that they had to cut down but it was still too big.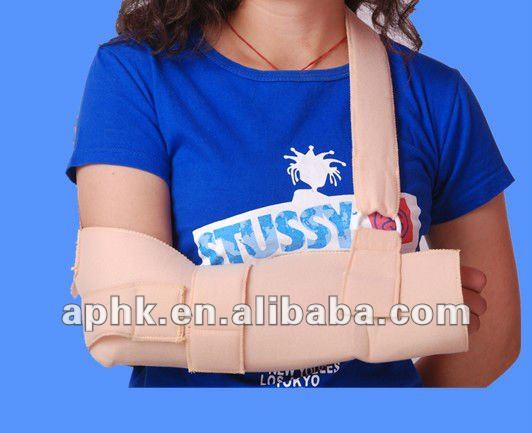 Her friends in school all made a big fuss of her and she felt a bit better but I thought 'we can fix this'.  So a quick Google search produced a useful post, a visit to the fabric shop after school to get supplies and this is what  I produced.
Its padded with some polyester wadding I had knocking about and I've also made a little protective cover to protect her neck from the strap and clip.  She wore it to school today and was very happy.
As I was making it I reflected on the weird and wonderful things that I have ended up making as Sewing Mother, over the years these have included clothes for bears, water bottle holders and lunch bags, Lion, Pirate & Roman Costumes, crazy Harry Potter stuff and now slings! What's the weirdest thing you've ever ended up sewing for someone?  Does it make you feel glad you can whip something up or does it raise peoples expectations too high?!  Last time we were in the fabric shop my girls were plotting what clothes to make their bears, 'Mummy can make jeans for the bears as well' I heard!  Mummy can't make jeans for herself never mind a bear!!!!!